Heat Reflective paints
Our heat Reflective paint is water-based, high solids, PUD hybrid, Summer Cool Roof Paint. It contains both reflection and nano insulation pigments for best-in-class heat protection.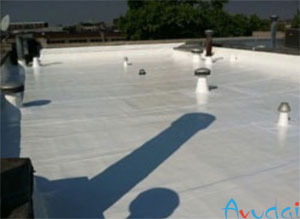 Along with it, the adhesion enhancer & Nano UV protectors prevent the coating from UV degradation delivering excellent weather ability and longer service life. Our paint is powered with micro-fibers for excellent waterproofing & crack resistance. We are offering heat reflective paint for the terrace and roof.
It can be applied on any type of surface like RCC (flat/slope), tiled, Metal sheet, Asbestos sheet, colour coated metal sheet, Sidewalls etc.
Solvent Cement, PVC Solvent Cement, UPVC Solvent cement, CPVC Solvent cement, PVC Adhesives, CPVC Adhesives, UPVC Adhesives, PVC Glue, PVC Glue, UPVC Glue, Manufacturer of Solvent Cement, Supplier of Solvent cement, Exporter of PVC Solvent cement, Exporter of UPVC Solvent cement, Exporter of CPVC Solvent cement, Manufacturer of PVC Solvent cement, Supplier of PVC Solvent cement, Manufacturer of UPVC Solvent cement, Supplier of UPVC Solvent cement, Manufacturer of CPVC Solvent cement, Supplier of CPVC Solvent cement, Manufacturer of PVC Adhesives, , Supplier of PVC Adhesives, Manufacturer of CPVC Adhesives, Supplier of CPVC Adhesives, Manufacturer of UPVC Adhesives, Supplier of UPVC Adhesives, Manufacturer of PVC Glue, Supplier of PVC Glue, Manufacturer of UPVC Glue, Supplier of UPVC Glue, manufacturer of CPVC Glue, Supplier of CPVC Glue