Stainless Steel Cleaning/Pickling Chemicals
A. Stainless steel Cleaning/Degreasing chemical: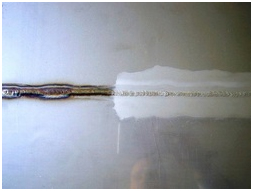 CLEANOL-LC170 is used as a cleaner, degreaser, and emulsifier for grease, oil, and soils on Stainless steel Surfaces. It does not contain any harmful solvent like carbon tetrachloride, trichloroethylene, etc. It protects bare metal as well as a painted surface.
B. Stainless steel pickling paste/Gel:
SS-CLEAN is a gel-type solution to remove built-in corrosion from stainless steel. It removes scales, discoloration, burns spots, and ferric contamination without wire brushing or grinding.
BENEFITS:
It gives controlled metal removal
It release negligible fumes
Improved finish with a uniform smooth bright look.
Gives full corrosion resistance to treated surface and avoid further corrosion
Handling is very easy.
It clears non- reachable areas like internal and external pipes
C. Stainless Steel Pickling dip:
The Pickling spray removes annealing colours, welding scale, and corrosion products, traces of oil and grease from stainless steel surfaces.

New recipes considerably prolong the moist phase so that the pickling spray remain effective.
During the controlled pickling process there will be a little drying,
at the same time, the material surfaces are brightened and show a brilliant optical effect.
The indicator achieves controllable spraying.
Reduction of the emission of poisonous and nitrous gases
Cleaning of slightly greasy surfaces.
Control of reaction (decolorization).
E. Stainless Steel Passivation Chemical:
Passivation is a non-electrolytic finishing process used to improve the corrosion and rust resistance of stainless steel components after manufacturing. It is advised to go for passivation after stainless steel pickling paste.
Solvent Cement, PVC Solvent Cement, UPVC Solvent cement, CPVC Solvent cement, PVC Adhesives, CPVC Adhesives, UPVC Adhesives, PVC Glue, PVC Glue, UPVC Glue, Manufacturer of Solvent Cement, Supplier of Solvent cement, Exporter of PVC Solvent cement, Exporter of UPVC Solvent cement, Exporter of CPVC Solvent cement, Manufacturer of PVC Solvent cement, Supplier of PVC Solvent cement, Manufacturer of UPVC Solvent cement, Supplier of UPVC Solvent cement, Manufacturer of CPVC Solvent cement, Supplier of CPVC Solvent cement, Manufacturer of PVC Adhesives, , Supplier of PVC Adhesives, Manufacturer of CPVC Adhesives, Supplier of CPVC Adhesives, Manufacturer of UPVC Adhesives, Supplier of UPVC Adhesives, Manufacturer of PVC Glue, Supplier of PVC Glue, Manufacturer of UPVC Glue, Supplier of UPVC Glue, manufacturer of CPVC Glue, Supplier of CPVC Glue