Paint remover / Stripping chemicals:
There are drawbacks in the conventional methods of removing paint, which require not only shop facilities but also involve labor. It is a time-consuming process.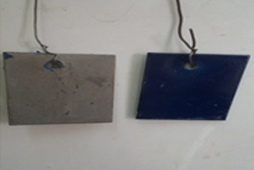 Keeping in the view of drawback of the conventional method, Avudai surface treatments has come out with a novel innovation in incorporating the latest technology in the field of paint stripping.
Everstrip is a paint remover/paint stripper chemical for ferrous, cast iron, stainless steel, brick, and aluminum. It can be done either by applying or dipping method.
Different types of paint remover offered by us:
Alkaline based paint remover
Acidic based paint remover
Neutral Paint Remover
Solvent Cement, PVC Solvent Cement, UPVC Solvent cement, CPVC Solvent cement, PVC Adhesives, CPVC Adhesives, UPVC Adhesives, PVC Glue, PVC Glue, UPVC Glue, Manufacturer of Solvent Cement, Supplier of Solvent cement, Exporter of PVC Solvent cement, Exporter of UPVC Solvent cement, Exporter of CPVC Solvent cement, Manufacturer of PVC Solvent cement, Supplier of PVC Solvent cement, Manufacturer of UPVC Solvent cement, Supplier of UPVC Solvent cement, Manufacturer of CPVC Solvent cement, Supplier of CPVC Solvent cement, Manufacturer of PVC Adhesives, , Supplier of PVC Adhesives, Manufacturer of CPVC Adhesives, Supplier of CPVC Adhesives, Manufacturer of UPVC Adhesives, Supplier of UPVC Adhesives, Manufacturer of PVC Glue, Supplier of PVC Glue, Manufacturer of UPVC Glue, Supplier of UPVC Glue, manufacturer of CPVC Glue, Supplier of CPVC Glue